Why Choose AFS Analytics?
Real-Time Analytics
Unique visitor profile
Recover not provided keyword
Keyword rank checker tool
Event tracking
Track marketing campaigns
Ecommerce Analytics
Sending PDF reports
Easy to use
AFS Analytics - Web Analytics Tool
Real-Time Dashboard! Easy to install! Easy to use! Right Now report! AFS Analytics provides one of the best web analytics service using the latest technologies. And it's free!
Get priceless information about your website audience! Analyze your visitor behavior and understand how to improve your website content. AFS Analytics offers you two real-time reports continuously updated. The dashboard displays your website metrics into a single page. The "Right now" report allows you to monitor the current activity on your website: see how many visitors are on your website and what they are doing right now...

AFS Website Analytics is a great alternative to Google Analytics.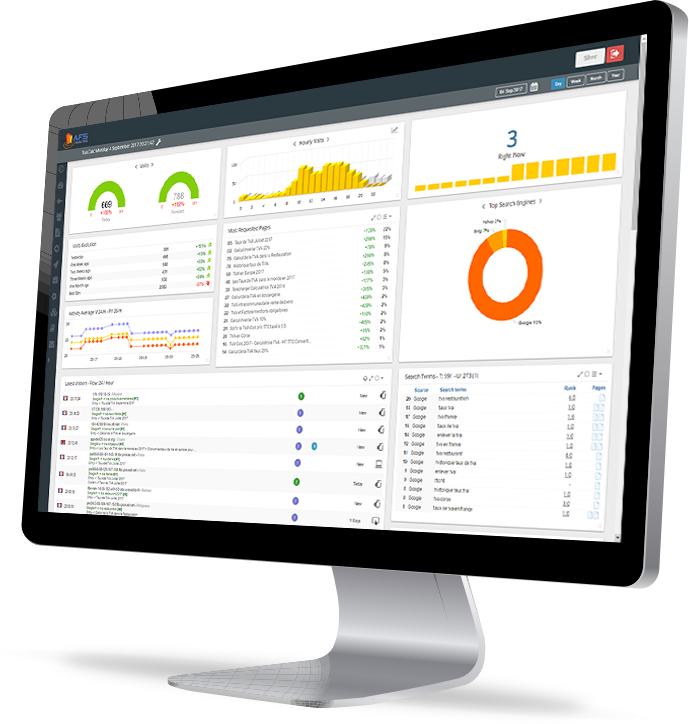 Real-Time Analytics Reporting.

With LiveDisplay technology, AFS Analytics offers real-time web analytics reporting tool. Your website data are tracked immediately and the reports continuously updated. AFS Analytics provides everything you need, including rich user interface and powerful tracking system.
Detailed visitor profile

For each visitor, a unique identifier is created giving you access to their personalized profile: first referrer, keywords, referral marketing campaign, ecommerce orders, behavior, history of visits, etc. Displays its name, address, phone, e-mail with data exchanged with your site. From the back office of your site, access the data of a visitor using their ID
Event Tracking

AFS Analytics tracks all visitors' interactions: clicks, videos, downloads, windows, time spent to fill forms, navigation, etc. Analysis of quantitative and qualitative data. Traking by "dataset" or automatically with the "AutoTrack" option. Alert event reports hidden bugs
Easy to Use

With our innovative real-time dashboard, all website metrics are displayed into a single page. The toolbar is intuitive and offers user-friendly features such as zoom, scroll, menu, etc. You can customize your dashboard by changing the boxes locations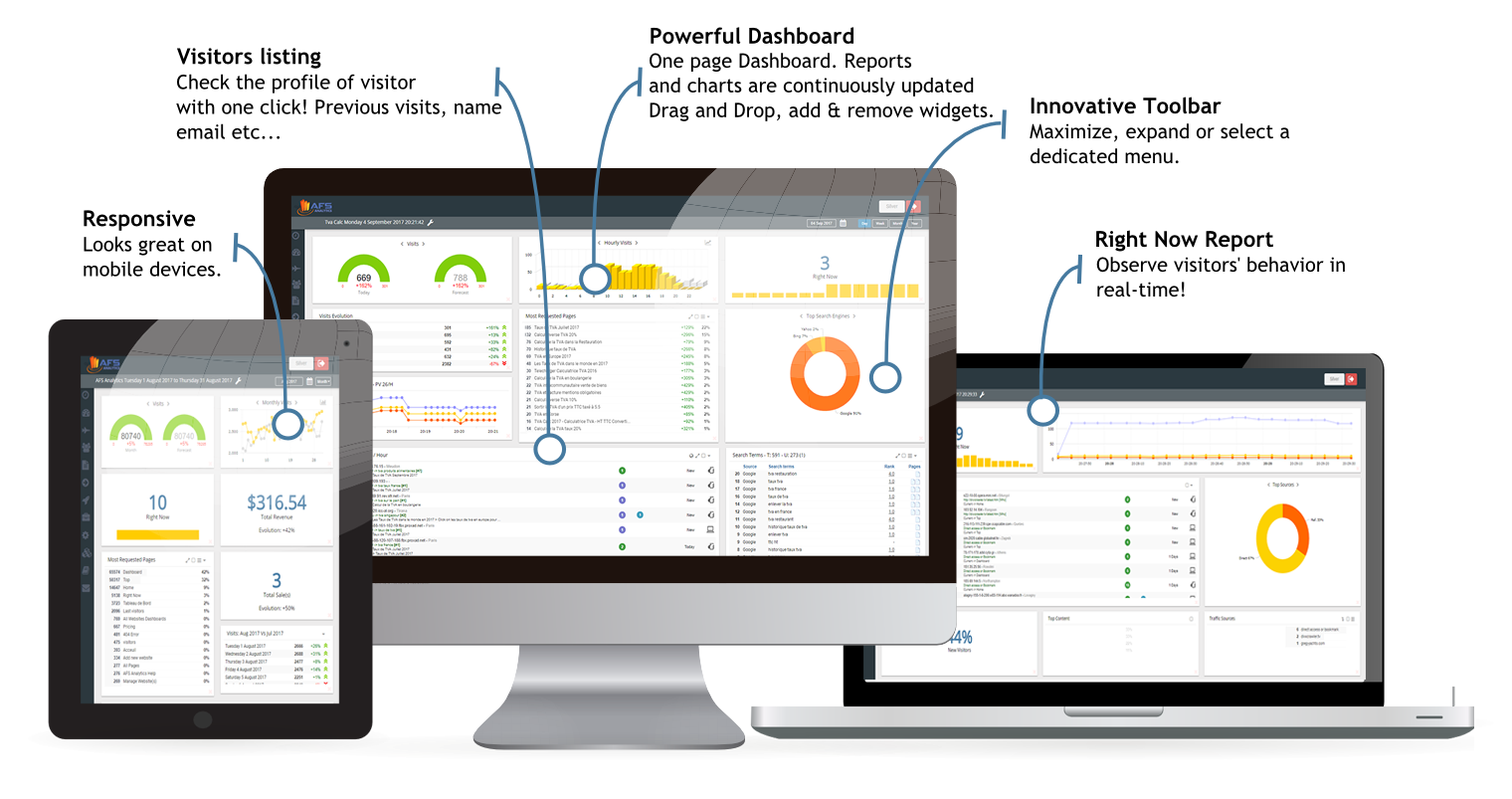 Efficient marketing campaigns

AFS Analytics automatically detects visitors from advertising campaigns using UTM parameters. AFS also measures the cost, ROI and the effectiveness of your marketing campaigns. An URL Marketing campaign builder is available
Quick and easy installation

The Javascript tracking snippet and the analytics.js library developed by AFS Analytics use the same features and commands as those provided by Google Analytics. Developers accustomed to GA already possess all the necessary skills to proceed with the installation. Guides are available for quick learning. For WordPress sites, A plugin is available: WordPress Analytics
Ultimate Performance.

AFS Analytics has been built to deliver ultimate performance. The latest technologies were used including HTML5, JQuery , AJAX and cloud system.
AFS Web Analytis service is hosted on powerful servers such as IBM and DELL brand names designed for high reliability as well performance.