Design your business logo online
You've been digging around for some cool business names and you've finally found one. It is now time for you to move on to your
logo design
. Logo designing isn't an easy task, it takes time and artistic ideas. You have to be in the business and know what other companies a designing. Your logo needs to be trendy, original and symbolic.
There a two ways of designing a logo. The first way is by contacting a professional logo design company which will design a custom logo for you. The other way is by creating an online logo. Today there a numerous online services which offer quality design tools for creating logos. Online logo design is becoming a reality. These sites are making it easier for small companies to design logos.
With a good online logo design site, you should be able to have a rough idea of what your logo will look like in about 5 minutes. Good online design sites offer user friendly design tools that will guide you along the way. The design process is simple. You simply enter your company name, choose a logo template and add your custom finish touches with the online tools.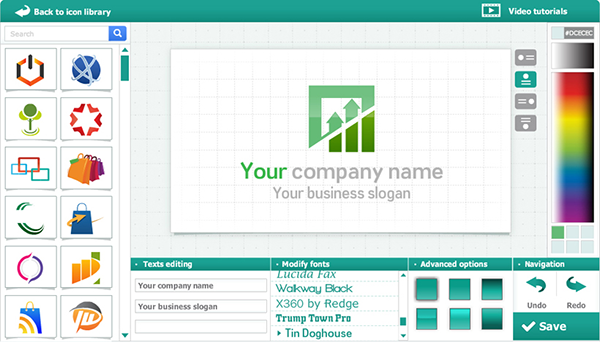 Most online logo design sites will advise you on the colors you should choose. They even have color coded logo templates to choose from which are adapted to your business industry. The online logo design tools will allow you to change the colors using a color picker which will offer you a range of colors to choose from. Same thing goes for the fonts. Fonts are very important in logo compositions. Most online logo design sites will guide you and offer you adequate fonts for your logo. Your company logo should be visible from a distance and from close up. Therefore it is essential that you choose a thick, bold font that will stand out.
Here's a few interesting facts about online logo design. When you design your logo, you get your files directly after purchasing your logo. There is no wait, contrarily to a professional logo design company which can have long delays. You can also make as many logo versions as you like and save them to your account and view the logos at any time on your user account. Most logo packages come with options. For example logogenie.net offers a social network package which delivers you social network profile banners with your logo on them for your professional Facebook, twitter, Pinterest and LinkedIn pages.
You should always be careful with the file formats that you receive. You must insure that you get all the formats you need to exploit your logo freely. High definition JPG, PNG and PDF files are important for web and print medias. Vector formats are important features as well. Vector formats are essential for printing corporate products like business cards, letterheads... This format allows you to resize your logo without losing quality.