AFS Analytics is a web analytics service that offers the most advanced data analysis for your Drupal website. With this advanced tracking tool, you will get advanced statistics and information about your website visitor behavior.

Easy to install, AddFreeStats Analytics is the perfect tool for your Drupal website.

Advanced Asynchronous technology
AddFreeStats is absolutely free and uses the most advanced tracking technology. The code utilizes the browser's ability to load files asynchronously. This means that AFS Analytics code speeds up the render of your Drupal website
Install AFS Analytics on Drupal
Below is a step by step guide on how to install AFS Analytics tracking code on your Drupal site:
1)
First you need to
register an account
on AFS Analytics. The signing up is simple and takes only a minute.
2)
After signing up, you will get access to a unique tracking code that you can place anywhere on your site.
3)
Log in to your Drupal website.
4)
After logging in, click on
"Structure"
under the
"Admin"
menu.
5)
After that, go to the
"Blocks"
on the new window that appears.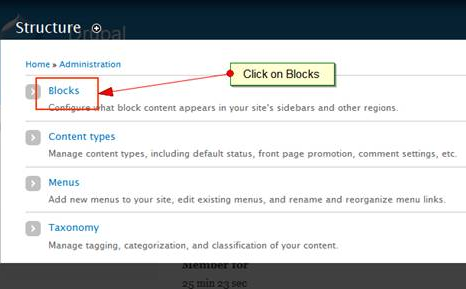 6)
Now Select on
"Add Block"
.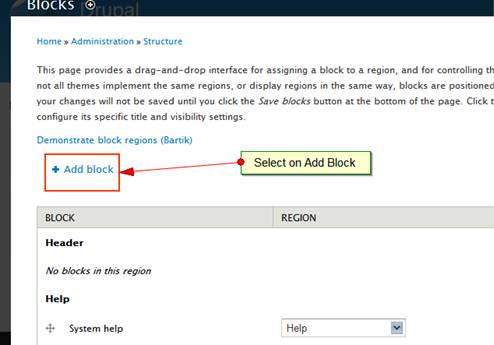 7)
Enter a description for your new Block
e.g. AFS Analytics
and then paste the unique JavaScript code from your AFS Analytics into the Block body.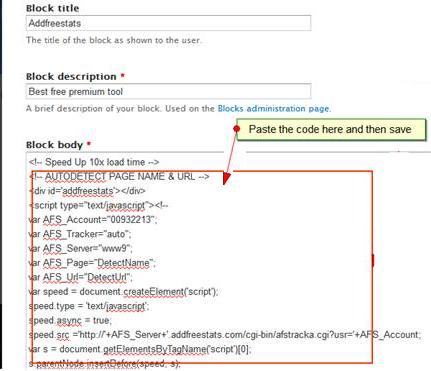 8)
On clicking
"Save block"
, the AFS Analytics block is ready and the next step is now to add it to the footer of the website.
9)
To add the AFS Analytics block that was created to the footer, scroll down to the bottom of the page and locate the block with the name that you assigned as the description in Step 5 above.
10)
Drag and drop the Block into the footer section where it will always appear.
11)
Finish the whole procedure by clicking on
"Save Blocks"
. This marks the end of the installation of the tracker tool to your Drupal website.
After these steps the Addfreestats system takes over and starts to record and analyze visitor details.
View your Drupal website statistics
To check out the analytics and change the options, one can see the details by clicking on the button or by logging into your
AFS Analytics
account where you can also change options and settings. From your account you will be able to see advanced tracking analysis based on time, visitor durations and other advanced analysis which helps you to improve your site performance.