AFS Analytics Wordpress Plugin
First, we recommend you to install the AFS Analytics WordPress Plugin. AFS Analytics will be installed and automatically updated on your website pages. How to install AFS Analytics WordPress Plugin.
You don't want use the WordPress Plugin
You would like measure and analyse your WordPress Website traffic without AFS Analytics Plugin. AFS Analytics provides website statistics in real-time to WordPress users. How many people visit your website or blog? Who is visiting? Where they come from? What the most popular pages? Are they logged? AFS Analytics gives you answers to all those questions and much, much more…
The installation of the AFS Analytics tracking code on your Wordpress website is simple and takes less than 5 minutes.
Speed Up your wordpress website
AFS Analytics
uses asynchronous JavaScript tracking code. It means that your blog pages show up faster
Install AFS Analytics without a Wordpress Plugin
To install the AFS Analytics tracking code on your Wordpress website , here is a step by step guide.
1)
First you need to
open an account
on AFS Analytics.
2)
Next you need to log in to your Wordpress dashboard as usual.
3)
On your dashboard find the
"appearance"
tab that is located on your left sidebar and hover on it. Now select
"Editor"
link from the options provided.

4)
A new editor should open up. Select
"footer.php"
link from the right sidebar as shown below. This should open the php file where you should paste the JavaScript code.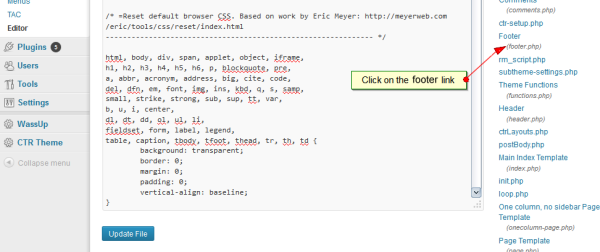 5)
Locate the
"!-- Analytics Go Here --"
line in the footer.php file and then paste the AFS Analytics tracking code after it.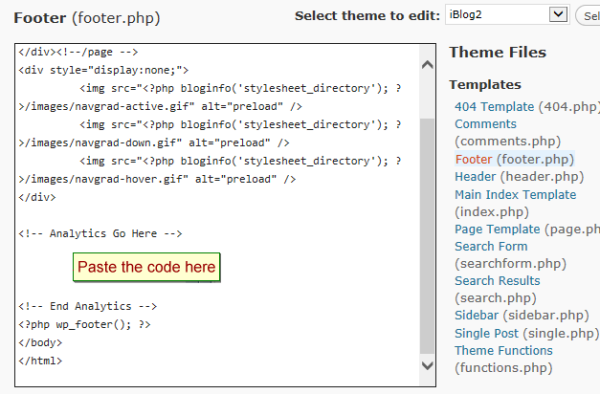 6)
If you don't find the previous line paste the code before
"?php... wp_footer(); ?"
or
"/body"
line.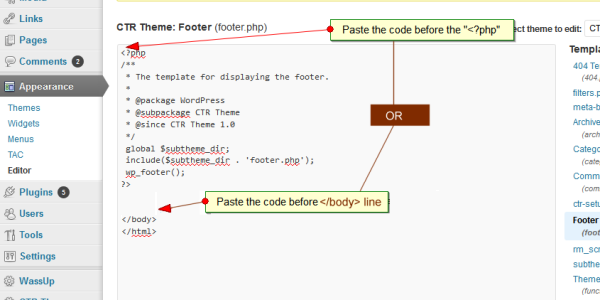 7)
After pasting the JavaScript code, you should save it now by clicking on the
"update file"
button that is on the left bottom of the page editor. Now the code has successfully been installed on your Wordpress site or blog and should now start tracking the traffic activity.

Important:
It is important to note that this method of installation will require you to repeat the installation incase the theme of the website is changed; this is because the installation of the code is done into the footer.php file of the theme and not on the site.
How to view your wordpress blog statistics
To get access to your wordpress website statistics, log into your
AFS Analytics
account.