Inlive counts the number of active visitors on your website and displays it in a small box.
Customize inLive
Create your own design! Change the message, the colors or the box size.
InLive like Facebook button style.
Select the option social media button style to get the design of Facebook button on the customization page. You can too enable this style by setting the value of the variable 'AFS_Inlive' (or type) to 4 into the Inlive code: var AFS_Inlive='4'
How to install InLive?
1. First, if you have not already installed AFS Analytics tracking code on your website
I. Open an AFS Analytics Account.. [Sign Up]
II. [Log In] on your AFS Analytics account.
III. In the main menu (top of page), click the link 'Account'
IV. Select the option AFS Code.
V. Paste the AFS Analytics code into your website page(s).
2. Paste InLive code on your website
I. In the main menu (top of page), click the link 'Account'.
II. Select the option 'inLive Code'.
III. Copy and paste the Inlive code into your existing website pages.
Note: At any time you can customize Inlive without changing the code pasted on your website pages. Click the 'Account' link in the main menu and select the 'customize Inlive' option.
Inlive uses the information collected by the AFS Analytics asynchronous tracking code. Inlive code displays the Inlive Box.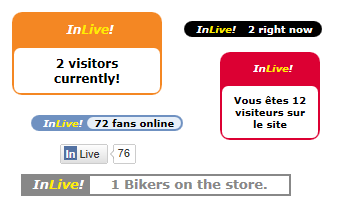 Send to afsteam(at)afsanalytics.com your own Inlive screenshot.